This month is all about scallops, and not the potato kind. The challenge was to create something using the lovely wonderful scallop. I made 2 cards for this challenge because when I finished the first one it just was not enough scallops.
This first card I made for my sister-in-law for her birthday. The new paper from Papertrey has a ledger style paper so I kinda used that as a starting point to be fun and stamp her birthdate where it reads "date" and then I die cut on the line that has 29 and circled it in red to be funny because well she is not :)
I could not stop using my new goodies from the Anniversary this month and pretty much this whole card came about as I was taking things out of the box. I totally fell in love with this kinda abstract flower that I saw on my friend
Rhonda's Blog
and the rest just kinda happened.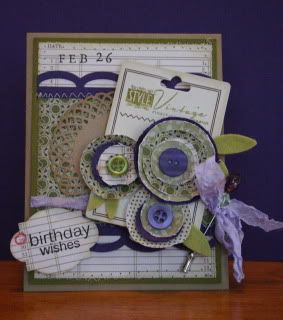 This second card came to mind when I was singing (badly) a Sign Language song to Ava that she loves, "Do you know the colors of a rainbow?" Sign Language has been such a great gift in our house when the kiddies were not talking so they could communicate with us without crying. Ava is starting to talk more but still signs when she needs to reinforce her message. Emma and Anton still use it some, mostly to assist Ava but last night at dinner Emma was using her signs and making us guess what she was signing ....... she signed "mommy you are beautiful" and that made my night!!!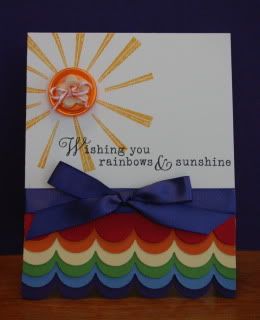 I do not know but the photos look a bit blurry to me. I am trying the photobucket exporter on my Mac but the quality does not look the same as in iphoto... humm I will have to check that out.
Happy Blog Hopping
xoxoxo